Overview

NEAR CLI is a fully featured NodeJS command line interface that wraps near-api-js.

You use NEAR CLI to connect to the NEAR platform from the terminal to create accounts, deploy contracts and more.

Prerequisites: Make sure you have the latest version npm and node
Installation
Mac and Linux

To install NEAR CLI globally (recommended)
npm install -g near-cli

Windows

Please use the Windows Subsystem for Linux (WSL).
Download a distro from this Microsoft link.
Install Node.js following the directions here
We will be installing near-cli globally and Windows is known to have permission issues with this in WSL. Follow the guide here in order to fix this issue.
Now we can run the same command as Mac and Linux:
npm install -g near-cli

Note: Copy/pasting can be a bit odd using WSL. Quick Edit Mode will allow right-click pasting. Depending on your version there may be another checkbox allowing Ctrl+V pasting as well.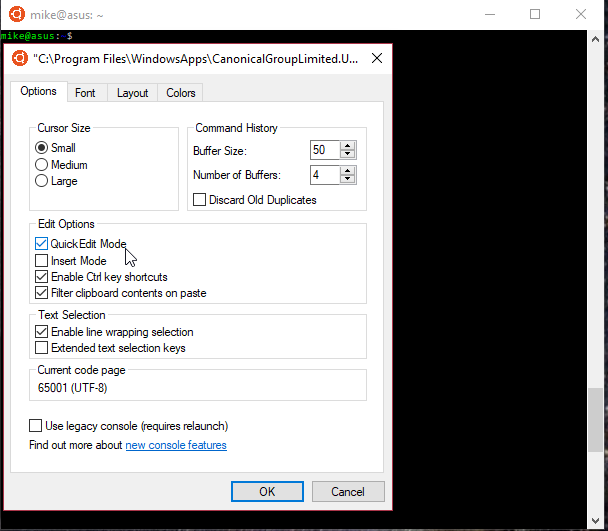 Upgrade

If an upgrade is available, NEAR CLI will present a notice similar to the following:
To upgrade NEAR CLI, just follow the instructions
npm install -g near-cli

If you're curious, you can always check your current version before and after the upgrade with
near --version  

# version info appears on the last line of output



And you can always see the latest available version using
npm outdated -g  

# note the difference between Current and Latest



But NEAR CLI handles upgrade notification automatically.
If you have any issues upgrading NEAR CLI, sometimes the fastest way to resolve the issue is to uninstall / reinstall
npm uninstall -g near-cli
npm install -g near-cli

Usage

In command line, from directory with your project:
near <

command

>

Commands
For accounts:
near login                                       

# logging in through NEAR protocol wallet


near create-account <accountId>                  

# create a developer account with --masterAccount(required), publicKey and initialBalance


near state <accountId>                           

# view account state


near keys <accountId>                            

# view account public keys


near send <sender> <receiver> <amount>           

# send tokens to given receiver


near stake <accountId> <stakingKey> <amount>     

# create staking transaction (stakingKey is base58 encoded)


near delete <accountId> <beneficiaryId>          

# delete an account and transfer funds to beneficiary account



For contracts:
near build                                       

# build your smart contract


near deploy                                      

# deploy your smart contract


near call <contractName> <methodName> [args]     

# schedule smart contract call which can modify state


near view <contractName> <methodName> [args]     

# make smart contract call which can view state


near clean                                       

# clean the smart contract build locally (remove ./out )



For transactions:
near tx-status <

hash

>                            

# lookup transaction status by hash



Other:
near repl                                        

# launch interactive Node.js shell with NEAR connection available to use


near generate-key <account-id>                   

# generate key



Options
| Option | Description | Type | Default |
| --- | --- | --- | --- |
| --help | Show help | [boolean] | |
| --version | Show version number | [boolean] | |
| --nodeUrl | NEAR node URL | [string] | "http://localhost:3030" |
| --networkId | NEAR network ID for different keys by network | [string] | "default" |
| --helperUrl | NEAR contract helper URL | [string] | |
| --keyPath | Path to master account key | [string] | |
| --accountId | Unique identifier for the account | [string] [required] | |
| --masterAccount | Account used to create requested account. | [string] [required] | |
| --publicKey | Public key to initialize the account with | [string] [required] | |
| --initialBalance | Number of tokens to transfer to newly account | [string] [required] | |